CYCLE IN THE CITY!
Free Guided Bike Rides in Syracuse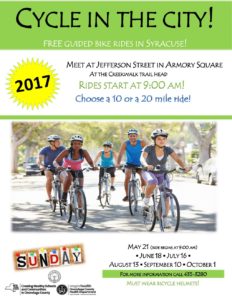 Meet at Jefferson Street in Armory Square
at the Creekwalk Trail Head
Rides start at 9:00 AM!
FREE guided bicycle rides through Syracuse on Sundays
MAY 21▪ JUNE 18 ▪ JULY 16 ▪ AUGUST 13 ▪ SEPTEMBER 10 ▪ OCTOBER 1
Rides start at 9:00 a.m. No registration is required. Basic ride is 10 miles with a 20 mile optional ride. All riders must wear a helmet!
Map Route for October 1, 2017 Ride